Well, we were definitely right about one thing – we were so not prepared for this comeback. BTS' 'Not Today' MV now holds the record for most views in 24-hours and is now the fastest group MV in the world to reach 10Million views, beating previous record holders One Direction. Yes, we really weren't ready for BTS. The MV shows the members running from and trying to survive, with the lyrics portraying a 'Today we fight!' message. Another thing that caught my eye, though, is the beautiful BTS Not Today bomber jackets.
Almost all the members (other than Jhope) sported the bomber look for this MV. Let's take a look at some of the members' bomber fashion.
Suga wore a red, knitted bomber over a hoodie, a fashion we've seen continuously in GOT7 Mark's Airport Fashion.
Fans were upset at the little screen time Jin gets in the MV, and it was quite hard finding his bomber look. However, you'll see Jin wearing a black, silver-zippered bomber to the right of Suga.
Rap Monster never fails to impress, whether it's his rap lines or his fashion. A black bomber is a classic in fashion, as it goes well with any outfit piece. He paired this one with a graphic tee, creating a perfect contrast.
We don't see a lot of white bombers around, but V (always the special one) sported this puffy bomber jacket and paired it with a colorful top. To add a little more color to the mix, he sported the bandana fashion look with a colorful tye-dye bandana, while Rap Monster kept it neutral with a black print.
Here are two different BTS Not Today Bomber Jackets worn by Jimin.
The first one caught my eye immediately. Unlike the other solid-colored, BTS Not Today bomber jackets, Jimin's bomber is imprinted with an abstract design, which almost hides the puffiness of the bomber.
We only got a glimpse of the second bomber jacket, but the texture seems to be quite different from the other members' bombers. It reminds me of the bombers seen in Seventeen's Boomboom MV, with it's furry/fuzzier texture.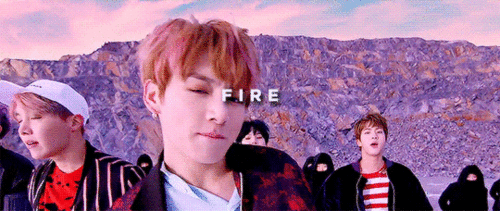 Jungkook's jacket also had a unique print to it. It was almost a cross between a canvas of red and purple splatters and a camouflage design.
Yes, bomber jackets are perfect for fall/winter, providing comfort and warmth while still looking fashionable. And even the members of BTS are fans~
Show off your love for BTS with a trendy phone case ~
Use our code: Kpopstuff4u for 10% off your purchase on obeythekorean.com !
*RELATED:
For More Bomber Looks –
Guys
Girls
For More BTS –
–> UP NEXT: VIXX KEN'S TWO BLOCK HAIRSTYLE <–