GOT7 MARK'S AIRPORT FASHION
GOT7 is currently touring the USA with their <Flying in USA 1st Concert Tour>! For those of us who can't be there to experience the adrenaline-rushing music and flashy performance, we can at least dream..right? While we're wishing, let's go over some of GOT7 Mark's airport fashion while GOT7 is busy taking FLIGHT (all over the US)~
The Taiwanese rapper of Got7 is known for (well, having a very supportive father) and his seemingly thrown-together casual airport fashion. Let's look at a couple of GOT7 Mark's airport fashion looks.
Hoodie Fashion:
When you're going on a long plane ride, comfy is the way to go. Mark's hoodie look is perfect for early morning flights or long road trips.
TRY : A beanie under your hoodie for some fun color contrasts!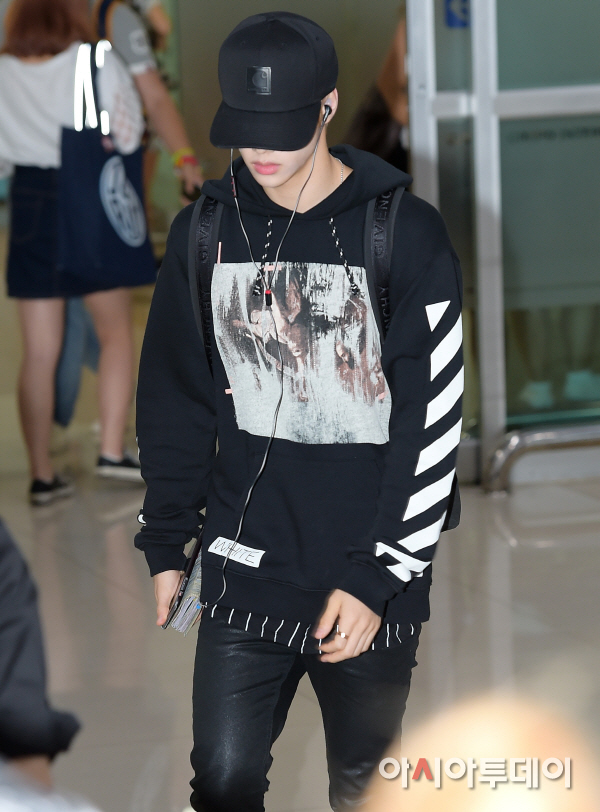 This member loves black, and you'll see that in all of Mark's airport fashion outfits here, too. If you're really feeling dark (or you're just into the aesthetics) …
TRY: Mixing-and-matching patterns with a long (patterned) black shirt under a black patterned hoodie.
Denim Fashion:
The denim look is in~ Whether it's real denim or just denim print, your outfit can change drastically depending on the denim's color and texture.
GOT7's Mark seems to prefer lighter denim colors, balancing out his dark-colored accessories and milky-white skin.
Here, Mark shows us the hoodie fashion and the denim fashion in one!
TRY: Layering a denim fabric with a light sweater for texture balance!
The College Campus Look:
Everyone dreams of being the envied college campus couple…but the look doesn't have to be worn just on campus~
In this college campus look of Mark's airport fashion, he is wearing an oversize coat with a dark turtleneck, which is part of the Goblin Fashion Trend. Mark also utilizes the dark denim jacket to contrast the coat's smooth texture.
TRY: Pairing denim with a turtleneck sweater for length variation!
The Layered Look:
The fluctuating weather calls for more and more layers, which you can take off and put on depending on the temperature~
TIP: If You Don't know what to wear with your Doc Martens, pair them with a dark varsity jacket for a casual but put-together look!
TIP: If you're in a dilemma over what shoes to wear, pick the ones that are in the same color as the outer layer of your top (ex. shirt, jacket, sweater). BUT, make sure it's in the same shade!
If you've run out of layering ideas, try the waist-tie fashion that's been making a comeback. Mark ties a red flannel shirt onto his waist for extra layers and casual fashion~
If you haven't noticed, Mark loves using bomber jackets when layering his outfits.
TRY: Your favorite bomber over a long T-shirt and lots of layers!
The Street/Sporty Style:
This look is perfect if you aren't a fan of too many layers and like to keep things lightweight.
Most guys like sports, so this fashion is much-loved among sports fans. This look would be especially appropriate when you're on the way to a game.
TRY: An oversize jersey under long sweater and light-denim jeans
Accessories, accessories~ Mark pairs all his accessories so well. This black on black on black look is a must try!
TRY: Try pairing thick framed, black glasses with a black snap-back to balance out the nerdy/sporty look
Mark's otherwise plain outfit is glamorized by accessories. Although his outfit is mostly black, this emphasizes the silver studs on his backpack and the silver on his rings, earrings, and necklace, making them pop!
TRY: Pairing your Timberlands with a matching, handheld accessory for extra flair!
Did you notice the MCM Trifold Wallet and MCM Passport Holder that Mark seems to be holding all the time?
Or the Black Studded Backpack that Mark seems to love?
RELATED:
– Lee Dong Wook's Hair in Goblin
For More of Mark's Hairstyles
–> UP NEXT: SEVENTEEN JEONGHAN'S HAIR <–